Repair Your Converse Glasses in Just Five Days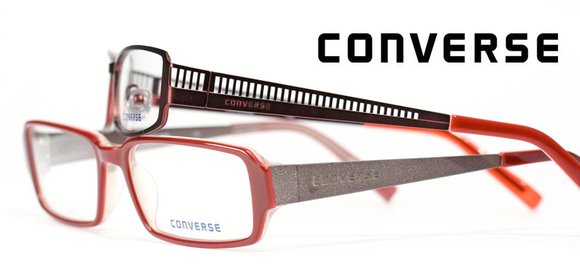 Click here to repair your eyeglasses in three easy steps
Long acknowledged for their timeless shoes, Converse is an equally hip choice in eyewear. Converse glasses are designed to rival the brand's signature shoe in style and versatility, but that doesn't mean they're not susceptible to incidental damage and breaks. If your Converse glasses are broken, you may not have to replace them with a costly new pair. Instead, look to our eyeglass repair shop to fix damaged metal and plastic features. Our glasses repair process takes as little as five days and can be completed in just three simple steps. We'll have your Converse glasses looking good as new before you know it.
Features We Fix
Most Converse glasses have features that are made out of either plastic or metal parts, including titanium in some models. This means we are able to make full or partial repairs, depending on the severity of your case, thanks to our innovative laser welding technology. We are typically able to make repairs to:
Bridges
Frames
Hinges
Nose pads
Temples
Other metal parts
If your glasses are made of materials other than metal, like plastic or composite, we can still make repairs to all metal pieces and any other features that can be fixed with welding.
Why Choose Eyeglass Repair USA
Customers have many options when it comes to glasses repair, which is why we seek to make the process as fast, simple, and budget friendly as possible. When you choose us, you can have your Converse glasses restored and back in your hands in as little as five days. The results will be permanent and upwards of 60 times stronger than conventional solder welds. Plus, our welding will blend right in with your glasses' existing features, so no one except you will ever know that they were broken.
Contact Us and Get Started
To start the three-step process or learn more about how we can help fix your Converse glasses, call our eyeglass repair shop at 1-855-726-2020 today or fill out our easy online request form.
Start Your Order By Clicking Here
Are your Converse eyeglass or sunglasses lenses scratched or broken? Visit our friends at Replace A Lens